FEATURES
Storage includes:

Three adjustable shelves to the left of sewing well (lift side)

Five drawers located on the opposite side of the sewing well (storage side)

Five adjustable shelves on the opposite side of the sewing well (storage side)

Adjustable three-position airlift:Removable cover for sewing well to provide smooth work or cutting area when the sewing machine is in the storage position

Moves your machine into three positions: free arm, flatbed, and storage

Manual platform design with a 55-pound sewing machine capacity

Locking industrial casters provide excellent portability and stability

Includes two side leaves for ample space allowing you to spread out your project

When your projects are complete, close the doors, drop the leaves and place the cover over the sewing well and your cabinet will tuck away your projects neatly and securely

Sewing machine opening is beveled

Optional Custom Machine Insert for a flush surface (sold separately)
Additional information can be found on our Emu Cabinet informational sheet
Kangaroo Sewing Furniture Lifetime Limited Warranty

Available in: White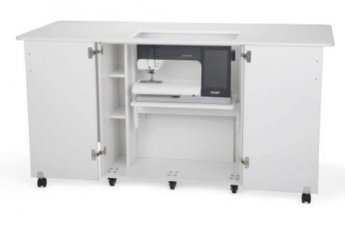 CABINET SPECIFICATIONS
Cabinet dimensions:

Open: 71" W x 31 ? " D x 36 ? " H

Closed: 36 ½" W x 31 ? " D x 36" H

Drawers (5 – storage side)Adjustable shelves (3 – storage side): 17" W x 10 ? " D

Small drawers (4 total): 11 ¾" W x 7 ? " D x 3 ? " H

Larger drawer (1 total): 11 ? " W x 7 ? " D x 8 ? " H

Adjustable shelves (5 – lift side): 4 ½ " W x 9 ?" D

Emu Cabinet is ideal for Sewing Machines: The Emu features tough melamine laminate, MDF, and composite wood

Up to 55 pounds

Maximum Machine Dimensions: *Please measure your machine and include knobs, plugs, etc. that extend beyond the body of the machine

Width: 23 ¾" (left to right)

Depth: 12 ½ " (front to back)

Height: 14"

Sewing machine opening is beveled
SEWING MACHINES THAT DO NOT FIT EMU SEWING CABINET
We are aware of the following sewing machines that are too large to fit into the Emu Cabinet:
BabyLock – Destiny and Solaris

Brother – Dream VX8500D and Luminaire Innov-is XP1
Sewing machines that will fit, but have special requirements:
Please be advised that this list may change as new models are introduced. It is extremely important to measure your machine prior to ordering to make sure it will fit.


SHIPPING INFORMATION
The cabinet is shipped ready to assemble in five separate boxes

Emu weighs a total of 226 pounds

Cabinets, tables, and chairs cannot be shipped to a PO Box

If ordered, a custom insert will be shipped separately and delivered three-four weeks later
ASSEMBLY INSTRUCTIONS
Assembly instructions are included with the cabinet. You may also download the Emu Cabinet manual and save it to your computer.
For assembly, you'll need: