Marietta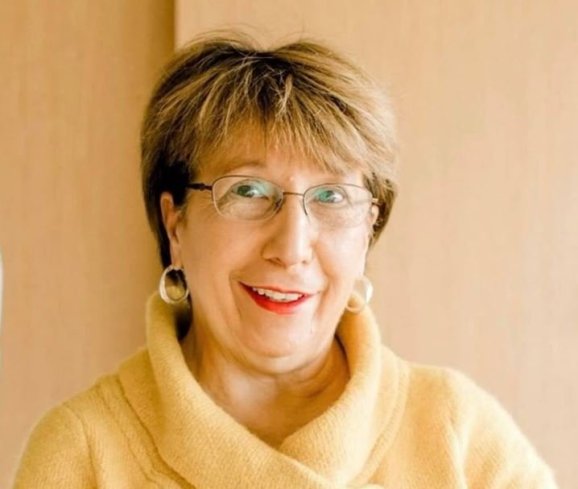 Marietta has a passion for sewing and has been working in the industry for most of her life. When her children were young, she would put them down to sleep just in time to watch Nancy Zieman on television. She says sewing with Nancy was the only thing that kept her sane during those busy years. As her children grew Marietta worked selling Babylock Machines, eventually deciding to open her own quilt shop and Babylock dealership.
She started her shop small with only $1,500 to buy her initial stock. Since then, she has grown the business into a nationally known quilt shop. Customers come from all over to visit the shop and Marietta is always ready to show them a new technique, tool, or machine. Many customers come for the fellowship as they have all become family over the years.
Marietta also has a passion for her community, particularly women and children who are victims of abuse. These women and their children often end up in shelters with nothing, not even basic toiletries. Marietta has organized the local quilting community to help these women. Throughout the year the shop accepts donations of travel size toiletries and feminine hygiene products. Once a year the shop hosts a huge sew in and our customers come from all over to sew and stuff beautiful zippered cosmetic bags. Marietta has partnered with the Simpsonville Police Department for distribution of these much-needed bags. When Covid-19 prevented the annual sew in, Marietta created bag kits so people could make them at home and drop them off. Every year the number of donations grows. Last year Marietta donated over 500 filled bags and several large boxes of leftover supplies filling several squad cars and a police department truck. Last year Marietta organized a group of machine embroiderers to make furry stuffed bears from kits she provided. These bears were donated to the Simpsonville Police Department to be distributed to children at accident scenes and other difficult police interactions. This was so well received we have plans to expand it next year.
Marietta is a big supporter of our military men and women. Marietta opens her store to Quilts of Valor of the Upstate for Quilt Presentations, provides free classroom space for the Quilts of Valor quilters to get together and sew on Saturdays, and sponsors their annual charity event and auction in Greenville, South Carolina.
Last year was a rough year in our community because of Covid. Some of the hardest hit were those men and women in nursing homes that were isolated and lonely. Marietta wanted to do something to show them they had not been forgotten. She organized our local sewists and quilters to make pillowcases for the people in the local nursing homes. The response was overwhelming. The shop took in almost 450 pillowcases. We took the pillowcases to three local nursing homes and laid them out on tables and assisted the residents to come through and pick their favorites. This is a charity event we hope to grow in the coming years.